About Our Oolong Tea And Where It Comes From
Our Thai oolong tea comes directly from Mae Salong, Thailand (now known as Santikhiri). It still retains its original packaging but we've added a sticker to the bag to show its nutritional content:
Nutritional Facts
---
Serving Size: .5 grams
Amount Per Serving:
Calories: 0
Total Fat: 0% of Daily Value
Sodium: 0% of Daily Value
Total Carbohydrate: 0 grams
Sugars: 0 grams
Protein: 0 grams
Not a significant source of calories from fat, saturated fat, trans fat, cholesterol or dietary fiber
---
Oolong tea, of course, is a natural source of antioxidants and other good stuff. It is also a great substitute for your morning coffee, as it is a natural source of caffeine.
Our Thai Oolong Tea Comes From Mae Salong, Thailand (now known as Santikhiri)
Geography and climate
Santikhiri is a hilltop village in the Mae Fa Luang district of Thailand's Chiang Rai Province, about 80 kilometres (50 miles) from Chiang Rai. Santikhiri is on the highest peak of the Doi Mae Salong range of mountains, at an elevation of 1,800 metres (5,904 ft) above sea level. It has an alpine-like climate, with crisp cool air all year round and chilly in the winter months of November through February. Santikhiri is accessible via two routes - Route 1130 from Ban Basang and Route 1234 from the south, which until being paved were only accessible by pack horses. Now regular minibus services, running from 6 am to 4 pm, are available from Chiang Rai to Santikhiri.
Santikhiri has long been the home of many hill tribes such as the Akha, Yao, Karen, and Hmong that originated from southern China and Myanmar. Each tribe has its own language, and follows animist customs and practices. Living among the native inhabitants are the ethnic Chinese, who form the majority of Santikhiri's estimated population of 20,000.
Cash crops, especially tea, have now replaced the growing of opium poppies, and Mae Salong today is a tourist attraction known as Little Switzerland.
Landmarks and attractions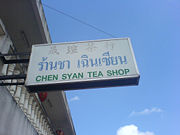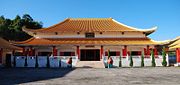 Santikhiri is noted for its High Mountain Oolong, a high grade traditional Chinese tea, which makes up about 80% of all tea production in Chiang Rai. The province produces about 200 tonnes (200 L/T/220 S/T) of tea a year. The combination of climate and soil conditions at Santikhiri is ideal for growing high quality Oolongs ("black dragon" in Chinese). Such teas are cultivated at elevations ranging from 1,200 to 1,400 metres (3,960-4,620 ft). In 2005, Santikhiri was selected by the Tourism and Sports Ministry as an OTOP ("One Tambon One Product") tourism village in recognition of its fine oolong tea. The goals are to stimulate the grassroots economy, increase the number of tourists, and develop Thailand's products and services. Taiwanese experts work alongside local farmers in tea processing plants which produce top-quality tea for both the local and export markets. The number of tea plantations in the village has increased significantly since the mid-1990s, and includes Choke Chamroen Tea, Wang Put Tan and 101 Tea.
From 28 December to 2 January each year, Santikhiri hosts the annual cherry blossoms festival, which is organised by Mae Salong Nok Tambon Administration Organisation in association with Mae Fa Luang District. The festival celebrates the culture of the hill tribe people from the Chiang Rai area, and includes a handicraft sale, a light and sound show, a parade by the tribes people, and a beauty contest.
General Tuan Shi-wen died in 1980, and was buried in a pagoda-like tomb on a hill-top reached via a 300-metre (984 ft) climb. From the top, there is a panoramic view of the village. There is a also a memorial to the KMT soldiers who died in their fight against communism, The Martyrs' Memorial, a museum whose wooden panels bear the names of the dead, set on an altar in the main building. It was constructed in the style of a large Chinese shrine. The museum also features exhibits describing the struggles of the KMT soldiers and the development of the Doi Mae Salong valley.
Phra Boromathat Chedi is a chedi built on a hill near the village, in honour of the late Princess Mother, Srinagarindra. There is an excellent view of the Myanmar frontier from the top, an area that was off-limits when it was under the control of the warlord Khun Sa.